Utah Concealed Carry Permit Info.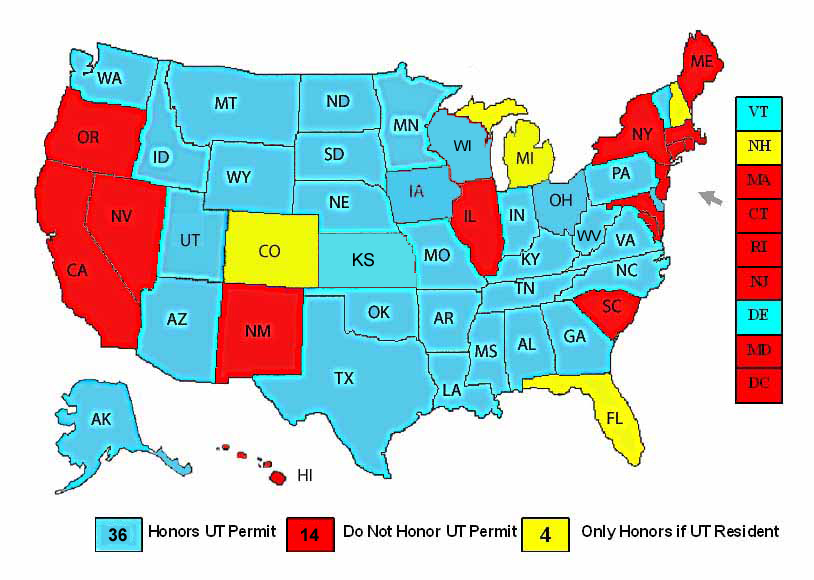 As of June 30, 2012 there were approx. 380,016 valid CCW permits in Utah. Of those over (50%) are held by non-residents. Utah's permit popularity is due to several considerations:
Primarily because

35

other states also recognize Utah's permit. Total = 36. Only 14 states do not.
Very easy to get it... you only need to attend this one 4-hour class.
No live-fire requirement to prove profieciency with handguns.
The application cost is 1/2 to 1/3 what most other states charge.
Because of the above, class fees are also

very

reasonable.
Like you, a vast number of like-minded folks are interested in learning to take responsibility for the protection of themselves and their family members. Please join us for this informative class.
Remember, when seconds count, the police are typically minutes away...



I am currently retired from teaching. My son-in-law Rob Wilkinson, who used to teach with me, is now teaching on his own. Please call him at 801-671-6773.
** Not accepting registrations **
⬇Articles⬇ Are great source for building up your concealed carry permit knowledge base...........
Please Scan These Titles!