Frequently Asked Questions: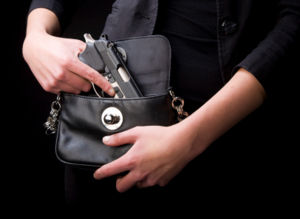 1. How does the Handgun Basics 101 & Gun Safety Class Relate to the Utah CCW Class? We teach 3 classes. A Handgun Basics & Gun Safety class, a Utah Concealed Carry Permit Course, and a Ladies-Only Utah CCW Class. The Handgun Basics Class lasts approx. 1.5-2 hours and covers gun safety, kids & guns, & practical handgun training (see our Course Highlights link above for complete details). These are topics also required to get your Utah Concealed Carry Permit. At the completion of this class, the Handgun Basics students are excused, and given a Certificate of Completion for this class. Typically, the remaining portion of the Concealed Firearm Permit class continues after a brief break.
The full Concealed Carry Permit Courses last a total of approx. 4 hours, and covers all the BCI required curriculum to get a permit. Most of the time, our classes are taught back-to-back, so to get a permit one must first attend the Handgun Basics & Gun Safety Class and then complete an additional 2.5 hours on the laws and other CCW topics, to get a Utah Concealed Carry Permit.
Anyone attending our Handgun Basics Class, who qualifies and wishes to continue on to get their Utah CCW permit, will be allowed to pay a $20 fee, & stay to complete the entire course, or may purchase a voucher to attend the remaining portion of the class at a later date. Call Mike at 801-201-0369 with any questions.
2 When are classes being taught? Please see our calendar for currently scheduled classes. We offer classes at our location in East Millcreek (Salt Lake City). Classes typically start on weekdays at 5:30 p.m., and at 9:00 a.m. on Saturdays. We may also be willing to teach on other days of the week (except Sundays), and at other times, and may also be willing to teach private classes at your location (depending on the class size and location). We do charge a small surcharge per person for teaching away from our location.
3. What is the cost? We run specials quite a bit, so please call for our current deal offering. We always prefer cash but will also accept checks & credit cards. A $20 non-refundable deposit must be paid on-line to hold your spot in the requested class.
4. How long is the class? Our CFP classes typically run 4 hours depending on class size, number of questions, etc. The Basic Handgun & Gun Safety Class lasts approx. 2 hours.

5. Where are classes held? We prefer to teach at our location in East Millcreek near Skyline High School in Salt Lake City. See the Contact/About Us tab for a map & directions. We are open to discuss your request for us to teach a private class at your location.
6. What do I need to bring to class? You only need to bring your Driver's License or other State-issued photo ID. If your are not a U.S. citizen, see our blog article on what is required. Please leave your personal guns locked in your vehicle, and no live ammo is allowed in the classroom.

7. Is there a minimum age requirement? Yes. Applicants must be at least 21 when they submit their application. You have 1 year from completion of the class to submit it to BCI, so you can actually attend at age 20, & then submit your ap on your 21st birthday.. Minimum age for Basic Handgun & Gun Safety Class is 12.
8. Are applicants restricted to Utah residents only? No, but you must be legally eligible to possess or purchase a firearm ie: NOT a Restricted Person, which means you can not have been convicted of:
any felony,
any crime of violence or domestic violence,
any offense involving the use of alcohol, or unlawful use of narcotics or other controlled substances,
any offenses involving moral turpitude,
and have not been found by a court to be mentally incompetent.
Note: it is possible to be approved after specified time periods for certain of these crimes. Please call me with any questions.
9. Will I walk out of class with my application completed & ready to turn in to BCI? We provide the application forms, passport photo service, fingerprint card, instructor's certification, and photocopy of Driver's License. We do not do fingerprinting in class, because it needs to be completed in a very exacting manner that we feel is better handled by a local law enforcement agency, or by BCI, to ensure there is no delay in processing your Utah CCW application. See our brief article on Fingerprinting for more complete details.
10. Am I required to bring a gun & ammo to shoot as part of the class? No live ammunition is allowed in class, and the state currently does not require live fire range time. However, you may still be required to handle and demonstrate safe handling of pistols.
11. Is attending your class all the training I need to effectively carry a concealed weapon for personal defense? Absolutely not! You need to spend considerable time shooting at a gun range, or in other training, in order to become intimately familiar with your carry gun before you can truly be competent to carry effectively and safely. Just attending this one class is not sufficient experience with a handgun to enable you to safely conceal carry in all circumstances. You also need to study the laws and understand what actions are justifiable, and when you can legally pull your gun. If you want to know my opinion of what you need to do to get properly prepared to carry a concealed firearm in public, please read this article.

12. How long will it take to receive my Utah CCW Permit? You have 1 year from the date you complete the class to submit your completed application and the $46 fee to the state. They are required to get your permit back to you within 60-days. Your permit is good for 5 years, & currently only costs $15 to renew it for another 5 years. You also have to provide another current "passport photo". This renewal can now be done on-line at www.BCI.Utah.Gov.
13. How many other states currently recognize Utah's Concealed Carry permits? 34 - Also see the BCI website for a complete listing of which states do and do not, with links to their respective authorities.

14. Will my employer, neighbors or others be able to know that I have a Utah Concealed Weapons Permit? Only if you tell them. This information is kept confidential by the State of Utah, and by us. It is not public information.

15. When I have a CCW permit, will I have to go through the standard Brady Bill background check when I buy a firearm from a gun dealer? No the background check and fee will be waived, but the dealer is required to call BCI to confirm your permit is still valid.
16. Do you provide training besides these Utah Concealed Weapons Permit classes? Yes, we are available to do personal or small group handgun training as requested, and do so on a case-by-case fee basis, to meet your needs.

17. Does a Category I Police Officer need to take a Utah CCW course to get their Utah Concealed Firearm Permit? No, and they are also not required to pay the application fee. However, they must still fill out an application, attach a passport photo, and submit documentation from a law enforcement agency located in Utah indicating they have successfully completed the firearm qualification requirements of that agency within the last five years.
18. What are all the costs involved to receive my permit?
Class fee (varies)
Get fingerprints taken ($5-$15). Some even do it free.
State Background Check Fee ($46 for UT residents, $51 for non-residents)
Apx. total cost ~ $100



I am currently retired from teaching. My son-in-law Rob Wilkinson, who used to teach with me, is now teaching on his own. Please call him at 801-671-6773.
** Not accepting registrations **
⬇Articles⬇ Are great source for building up your concealed carry permit knowledge base...........
Please Scan These Titles!